All interested freshmen, sophomores, and juniors are encouraged to apply; applications go live each November and are due in mid-December. All accepted students commit to our annual Intersession retreat, weekly discussion programs and participation in programs planning, and a September mini-retreat. Please email rlc@princeton.edu with any inquiries.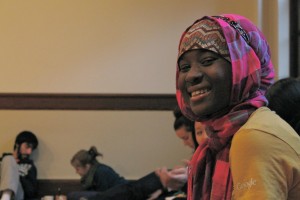 What you should know
One of the hallmarks of the RLC is our strong community. Many students have found the RLC an important home throughout their time at Princeton, providing a safe container to explore identity, spirituality, vocation, artistry, and relationships. The RLC is also known for the depth with which we explore the topics and missions we take on. RLC members have the opportunity to craft programs based on their interests and to speak and write these interests as well. Many RLC members gain important leadership and organizing experience; dedicated presence within the RLC is a qualification to becoming an RLC co-convenor, our leadership triumvirate. RLC members also have the responsibility to fully participate in a community, learning how to share their interests (and their hearts) in a way that is sensitive to others, and to learn from others.
What's expected of you
RLC members commit to weekly "Monday Meetings," our weekly discussion program, and to coordinating one Monday program a semester. Most members remain in the RLC throughout their time at Princeton. All members are also expected to participate in planning some larger public programs and community-building projects. All incoming members are required to attend the annual Intersession retreat; this is expected of returning members also, though not a dealbreaker (especially for seniors). Most of all, RLC members contribute their hearts.
What if I'm not religious?
That's okay! We welcome those of all faith and non-faith backgrounds. All we ask is for you to have an open mind and heart.
Application for the 2017 Calendar year: Click here!